That Time I Worked on a Landing Page for a Spiritual Retreat.
Traditionally, we started with a Zoom call...
Here's the Brief Rundown
✅ 6-Day Retreat in Mexico
✅ 13 spaces to fill at $3333 each
✅ No market research, collateral or previous campaign data.
The clients wanted to run Facebook Ads for the retreat but I recommended that they use word of mouth and affiliate marketing to fill the spaces.
This is because they had little time, a small budget, and no data to use to inform their campaign.
They filled their spaces by sharing their retreat on social media, inside Facebook Groups and a platform dedicated to advertising retreats.
I also advised them to reach out to Instagram creators in the spiritual niche, with a small-ish following, to offer a commission for signups from their network.
Client Avatar
Even though they didn't have an avatar ready, I knew that we could easily find it by looking into the people they were already serving.
I interrogated my clients and found that the target avatar is a woman, 35 years old, in a corporate setting. Problem aware and looking for a solution.
The issue is discontentment. She feels that her life just isn't going in the right direction, that there's more to life than climbing the corporate ladder and following norms.
More Avatar Research
I wanted to connect with this avatar even more... I watched videos on YouTube from women who attended similar retreats.
I wanted to know their why. I wanted to know the words they used to describe their experience. I wanted to understand.
I collected as much data as I could and coded the similar themes.
Click here to view the research Google Doc.
Inside this file, you'll also see...
how I discovered the Unique Selling Proposition of the Retreat
a comprehensive list of Features, Advantages and Benefits
how I used AI to help me generate ideas for the headlines
the ideas I generated in the process of looking for the BIG IDEA
much more!
This is just a way for you to get insight into the way I research, create and write.
Drafting the Landing Page
Here's my process of drafting...
1. Make a list of all things I want to include on the Landing Page ✏️
2. Organise the list into sections and in an order that makes sense for the reader ✅
3. Start filling in each section with the copy! ✨
Click here to view the Google Doc draft.
It's a 52-page document, so let me give you the rundown...
I used storytelling and dove into Victoria's story specifically because I knew that most of the audience would be people coming from her network.
It had to feel personal.
Then, I included all the necessary sections to explain what is unique about the retreat and what's the benefit of attending.
♦️Highlights♦️
🔥 The "How Much Does it Cost" section; money talk can be awkward in the spiritual niche. I played with this idea in the pricing section of this landing page.
🔥 The Introduction; If you like stories, then read the first section of the landing page, where I dive into Victoria´s story.
🔥 The Features & Benefits section; I intended for this section to fire up the reader's imagination and get them excited for the retreat!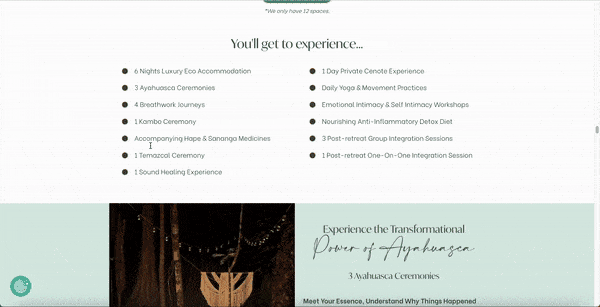 View the published landing page here.
How I'd Do Things Differently