Become an Expert Copywriter WITHOUT paying thousands of dollars for overrated courses.
HURRY! THIS SPECIAL OFFER IS ONLY VALID FOR THE FIRST 100 CUSTOMERS
"THE REALEST & MOST IN-DEPTH COPYWRITING COURSE FOR BEGINNERS"
HERE'S A TEENY BIT OF WHAT'S INSIDE THE COURSE 🥰
✅ THE 15 MOST PROFITABLE TYPES OF COPY YOU NEED TO KNOW (nobody else is teaching all of them & in this much detail!)
✅ THE 10 DIFFERENT STRATEGIES FOR EASILY ATTRACTING NEW CLIENTS most teachers only show you what works for them. I'll show you what works for YOU!
✅ THE SINGLE TRICK THAT GOT ME (& MY STUDENTS) CLIENTS WITHIN DAYS OF GETTING STARTED and kept them coming back for more!
✅ HOW ANYONE (INCLUDING A BEGINNER) CAN BECOME A PRO AT COPYWRITING IN 30 DAYS. The workshops break everything down so that even a 12-year-old could get it!
✅ HOW YOU CAN MAKE BACK THE COURSE FEE IN 30 DAYS OR LESS making it the best investment you have made in your life!
✅ HOW TO AUTOMATICALLY MAKE YOUR CLIENTS FALL IN LOVE WITH YOU no flirting involved!
✅ HOW TO WRITE COPY THAT IS HYPER-EFFECTIVE without staying up all night and stressing out about your deadlines!
✅ UNICORN STRATEGIES FOR RUNNING A SUCCESSFUL COPYWRITING BUSINESS so you can travel, live lavishly and blow a goodbye kiss to your boss… hasta la vista babe!
✅ THE 12 SKILLS THAT WILL LEVEL YOU UP FROM COPYWRITER TO COPY AND MARKETING GENIUS so that clients will queue up and pay for your advice
🔥🔥🔥
THE EASIEST WAY TO CREATE A JUICY & IRRESISTIBLE PORTFOLIO
that will leave a lasting impression on your clients (I haven't seen anyone else teach this)!
I'LL ALSO TEACH YOU
✅ THE LITTLE KNOW TECHNIQUES TO NATURALLY DISSOLVE MIND BLOCKS, LACK OF CONFIDENCE AND PROCRASTINATION that will not only help you in business but in all areas of your life!
✅ THE MASTER-KEY TO CRAFTING COPY THAT'S ON THE SAME LEVEL AS THE BEST PAID COPYWRITERS OF THE WORLD this is how you go from being a freelancer to a sought-after pro copywriter!!
✅ HOW TO LEVERAGE YOUR SKILLS AND USE COPYWRITING AS A STEPPING STONE INTO ENTREPRENEURSHIP so you can dive into passion projects and all the ideas you've been sitting on!
✅ THE 5 WHOOPSIE MISTAKES NEWBIE COPYWRITERS MAKE avoid them at all costs!
My Sweet Newbie Copywriter,
If you want to become a PRO and have clients lining up to hire you…
and DEMANDING that you and only you write the copy for their business…
Then this will be the most important and the only course you'll ever take.
Here's why:
Three years ago I was crawling the rock bottom of my life.
I commuted 1h 45mins each day to my temporary contract, minimum wage, sales assistant job. 🤦‍♀️
My marriage just broke down so I was hurt, depressed and living at my mama's house. 🥲
To top it all off... I dropped out of uni a few months prior and felt like a complete loser. 🫠
I desperately browsed the internet in search of a solution to my mid-life crisis (that happened at 24).
After losing most of my savings on the forex market and a couple of MLMs, I didn't want to get into another 'get rich quick scheme.'
All I wanted was...
✅ something real that I could do 100% remotely while travelling
✅ that would pay me enough so that I never had to worry about money again
✅ and made me feel like I was doing something cool and significant
Copywriting ticked all of my boxes. I knew that I finally found what I'd been looking for.
✈️
In July 2020, less than 6 months after I started freelancing, I left England to travel and work remotely.
Since then I've lived in 7 different countries.
I learned scuba diving, Spanish, salsa, the guitar and all kinds of other cool things.
I started a bunch of passion projects and felt happier than I ever imagined.
I worked less than 10 hours per week and that was enough to give me everything I ever wanted.
Crazy, right?!
The BIGGEST issue I had with copywriting tutorials was...
They all told me WHAT to do but never showed me HOW to do it.
"Just use some formulas, write attention-grabbing headlines and you're good to go!" 🤮
After spending the rest of my savings on copywriting courses that taught me nothing...
I realised that I have to learn this by myself, there was no other way but to dive right in, try to get some clients and see how it goes.
What's the worst that could happen?
8 days later I had my first client and 3 months later I moved to Barcelona.
I freelanced for businesses, agencies, startups and solopreneurs.
🤫
Here's a little secret...
I worked my ass off for the first few months, saying YES, YES, YES! to every project that came my way.
Not for the money.
I did it because there's so much to learn and the only way I could do it was through experience.
Once I became knowledgeable in most areas of copywriting I could pretty much charge whatever I wanted without feeling like a fraud.
Was it easy to do it all by myself?
Heck no 🥵
I had no idea what I was doing most of the time.
I didn't find one course or tutorial that had any real-life application.
I made a lot of mistakes.
I felt like quitting every single day.
But I never did. I knew that my perfect life was on the other side of the trenches.
And while crawling through the trenches I promised myself one thing...
"If I figure this out, I'll go back and teach others how to do it."
I've been travelling full-time since July 2020.
That's how
THE MOST IN-DEPTH COPYWRITING COURSE BASED ON REAL-LIFE PRACTICE AND EXAMPLES
was born.
HURRY! THIS SPECIAL OFFER IS ONLY VALID FOR THE FIRST 100 CUSTOMERS
I've worked with 70+ businesses writing copy and consulting on brand voice, sales funnels and marketing.
I've also been teaching copywriting for over a year through YouTube and my Courses.
With my tutorials and mentorship,
I've helped 523+ students start earning online
even if...
✅ their first language wasn't English
✅ they had no higher education
✅ they have never freelanced before and had no idea about marketing
✅ they had a full-time job or children to look after and little free time
✅ they weren't 'good' at writing
I could easily fill a book with the success stories of my students.
Of how they used my tutorials and lessons to become professional copywriters with clients lining up to hire them.
WHY THIS IS THE ONLY COURSE OF ITS KIND…. AND WHY IT WILL TRANSFORM YOUR ENTIRE LIFE
We're friends, so I can be honest, right?
99% of copywriting courses and tutorials out there are pretty disappointing.
Feels good to get if off my chest.
It seems like they're half done, if you know what I mean.
Does that mean that the copywriting gurus are frauds?
No! Absolutely not.
I have no doubt that they're amazing copywriters and they mean well.
The problem is that not everybody can teach.
In fact, most people have no clue.
That's how we ended up with tutorials and courses that are almost as pointless as adopting a pet rock (It's really a thing, you can buy a pet rock on Amazon).
I always knew that the best way to teach copywriting is through screen shares, real-life examples and step-by-step walkthroughs.
And I'm not here to brag but since I started I kept hearing the same thing.
I've got this teaching thing down!
Nobody else is teaching copywriting like this.
I promise you that The Copywriting Experience is the only course that will make you a pro at copywriting as fast as humanly possible.
ACCESS THE MOST COMPREHENSIVE COPYWRITING COURSE THAT EXISTS
If you sign up today you'll instantly get access to the learning platform and over 8 hours of step-by-step, screen-share, real-life copywriting tutorials.
Everything you need to become a PRO at copywriting, have clients pitching up tents outside of your house queuing to be seen by you, the oracle of copywriting. Everything is just a few clicks away, inside the course.
This is just the beginning though. The course is in production.
I'll keep adding lessons, at least twice per week.
By the time I'm done with you, you'll be in the 1% of copywriters who really know their stuff and know how to flaunt it.
ADRIANNA, CAN I SEE A SAMPLE OF A LESSON?
I get it.
You'd test drive a car, go for a viewing before renting an apartment, and go on a couple of dates before getting married...
You'd like to take a sneak peek inside the course.
I got you.
Here's a preview of one of the lessons.
Enjoy!
🎁🎁🎁
YOUR BIRTHDAY IS TODAY
And I'm here to shower you with gifts.
If you join the course today you'll get the following bonuses...
BONUS: LEARN ´BEHIND-THE-SCENES´ SECRETS OF COPYWRITING TO INSTANTLY BECOME BETTER THAN 99% OF COPYWRITERS OUT THERE
£467

FREE
Wonder what goes down in copywriting coaching calls?
Normally I keep this stuff hush, hush.
But I'm willing to pull open the curtains and let you watch the coaching calls I do for other copywriting students.
That's right, you'll get to
🔘 See what mistakes other newbies are making and learn how to fix them. Chances are if others are making these mistakes, so are you!
🔘 Hear the exclusive advice my students receive behind closed doors. You won't find this stuff on YouTube or anywhere else!
🔘 Discover what other newbies are doing to get clients, improve their copy and earn more money.
BONUS: EASILY IMPROVE YOUR COPY TO WOW CLIENTS AND BRING IN A DOWNPOUR OF NEW BUSINESS
£245

FREE
Want to write copy that will literally make your prospective clients drool over the idea of working with you?
All of my students found this one little thing that I do THE MOST EFFECTIVE AND MINDBLOWING teaching technique.
Do you know what it is?
Watching me review copy written by other students.
We called this 'Roasting Sessions' because I rip my students' copy apart with honest and extremely helpful copy critique sessions.
And you'll get access to all of the recordings from my copy critique sessions.
🔘 Learn copywriting techniques and tips by looking at real examples of copy written for real businesses by real copywriters.
🔘 Improve your writing 10X by analysing copy and improving it.
🔘 Get inspired and motivated by seeing other people's work, mistakes and strengths.
BONUS: BECOME A DIGITAL MARKETING PRO & LEVERAGE THE SKILLS TO EARN MORE AND STEP INTO ENTREPRENEURSHIP
£987

FREE
This is HUGE.
This is an entire course in itself and you get it for FREE if you sign up today.
I'm going to give you access to lessons that will teach you all the digital marketing and entrepreneurial skills I picked up over the past 6+ years.
🔘 Automatically earn more. You'll learn so many skills that you'll be able to use to either offer as additional services for your clients OR to grow and expand your own business.
🔘 Become a digital marketing expert. I'll teach you FB Ads, funnel planning, website creation, graphic design, social media management, video editing, SEO and so much more. No other copywriting course offers this much!
BONUS: MASTER YOURSELF TO CREATE SUCCESS AND JOY IN YOUR LIFE
£345

FREE
The most important thing I have learned over the years is that without self-development it's nearly impossible to achieve real and lasting success.
Luckily for you, I'm big on self-development.
In fact, I did a lot of training in self-transformation and self-development.
And I'll give you access to all the self-development lessons I have planned.
🔘 Manage stress and overcome mind blocks with my straightforward and easy practices that don't involve sitting down in lotus position for an hour each day!
🔘 Become healthier, happier and more efficient with my top tips and techniques for time management, prioritising and bringing the most opportunities into your life
🔘 Get clarity on who you are, who you want to be and how to get there with my tried and tested methods and advice.
OKAY ADRIANNA TELL ME HOW MUCH IT COSTS TO JOIN!
I know that most copywriting courses start at £2000.
And those are just the basic ones that include a couple of coaching call recordings or a few 5-minute videos of some old guy telling you to write attention-grabbing headlines.
They don't include the screen shares and super detailed, step-by-step tutorials that I include in my course.
They don't include a fraction of what I'll teach you.
Not to mention all the bonuses.
I can promise you one thing; you'll never have to spend a penny on any other copywriting course.
And the best thing is that this course doesn't cost £7323, or £3456, or even £2000.
You can access it today for just
£349

.99!

(that's around $400)

✅ Become a real PRO with 80+ hours of in-depth tutorials

✅ Get clear on what copywriting works like in real life with examples of copy for real businesses

✅ Easily write effective copy and build a name for yourself by learning how to do market, product, competition and avatar research

✅ Stay up-to-date and keep developing your skills with new lessons that come out weekly

✅ Write fast and with confidence with my step-by-step walkthroughs. You'll never have to second guess yourself or waste time Googling information.

✅ Never spend a penny on another copywriting course because you'll learn everything you need to learn with me. 15+ types of copy, client acquisition, sales email sequence planning, sales funnels planning and more!

✅ Get the lessons you need the most! Reach out to me to request lessons and modules that you need the most. I'll make them for you!

✅ It's yours, FOREVER! You get lifetime access to the course. Use it as much or as little as you like.

✅ Learn on the go! Use the dedicated mobile phone app to go through the course. On the bus, in bed, or at your current job *shhh*
ALL OF THAT PLUS THE BONUSES
🎁 BACKSTAGE ACCESS TO COACHING CALL RECORDINGS to help you become better than 99.9% of the copywriters that are out there right now. Less competition, less hassle.
🎁 SNEAK PEEK INSIDE THE COPY CRITIQUE SESSIONS to help you build your skills and become a sought-after PRO
🎁 DIGITAL MARKETING PRO COURSE to help you earn more and discover more opportunities to build businesses and projects
🎁 SELF MASTERY COURSE to help you live a healthier, happier and more productive life
🎁 VALUE:
£2044
FREE! 🎁
JOIN TODAY TO SAVE £

778
This offer is only valid for the first 100 stu
dents.
As the course grows I'll need to hire admins, group moderators, customer service guys, an accountant, and possibly a therapist 🤣
After the 100th student joins the course price will automatically increase to £1127.99.
This could be next month, next week or tonight. I don't know.
Things go viral overnight!
If you don't want to miss out on the huge saving of £778 join right now.
I can't guarantee you this price the next time you're here.
So, if you feel like this course is for you, just join now.
But, if you feel like it's not your cup or tea or it's not the right time... No worries!
You can click off the page and I'll see you around.
No hard feelings 🫶 I still love ya!
MY 'I LOST MY MIND'
100% MONEY BACK GUARANTEE
You'll think I'm nuts.
But I 100% guarantee that you'll love the course.
Let's take it a step further.
If you don't love the course I'll refund you every single penny.
That's right.
Just email me within 7 days, at [email protected] or WhatsApp me at +447851026861 and I'll drop everything and process your refund.
The most important thing is that you're either in love with my course or you get your money back and we forget all about it.
I wantchu to be happy! 🥰
NO RISK.
THIS IS YOUR CHANCE TO MAKE COPYWRITING REAL FOR YOU
BECOME A PRO AND EXPERIENCE THE ULTIMATE FREEDOM AND JOY OF HAVING THE COOLEST JOB IN THE WORLD
Here's something others might not be willing to tell you...
You can make all your dreams a reality.
You can also have a life that's full of magic, excitement and joy.
I don't believe it. I KNOW IT.
I've seen it happen over and over again for me, my students and other people.
There's a secret to it that only a few people know.
You HAVE TO take action towards your dreams.
You have to be the one to take the steps when it's necessary.
It's your way of showing the universe that you really want it and you're ready for it.
Nothing will ever just 'land in your lap.'
Even to win the lottery, you have to buy a ticket.
So if you really want copywriting to be your thing; take responsibility for making it come true RIGHT NOW!
Show the World that you're ready to level up your life.
I promise I'll teach you everything you need to know about copywriting to become a PRO and have clients lining up to hire you.
What you do with the money and freedom is use it to make your dream life come true!
LET'S GET YOU SIGNED UP & INSIDE THE COURSE
here's how to get instant access:
Step 1: Scroll down & click the offer below.
Step 2: You'll be taken to a secure checkout page.
Step 3: Enter your payment information & click 'PAY'
Step 4: You'll get an email with the link to the course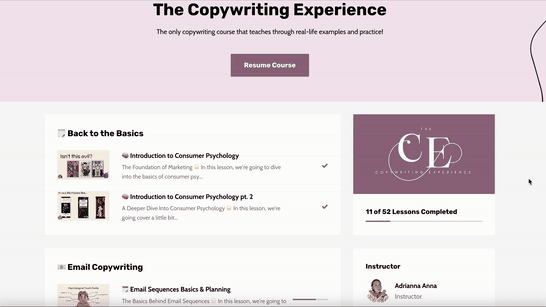 Join the Copywriting Experience Now for just
£

349.99!

Choose whether you'd like to pay the entire fee upfront or in 3 instalments.
👇
---
Thanks for taking the time to read my page,
See you inside the course!
P.S
Are you one of those people that skip the whole page just to read the P.S.?
Me too.
Here's the summary...
You can get instant access to my copywriting course…
That will teach you everything you need to know to become a PRO at copywriting and have clients selling themselves to YOU, convincing you why you should let them hire you.
The course is £349.99.
DOUBLE P.S
You need more convincing?
Hmm. Well, the offer is only for the first 100 students. After that, I'm bumping the price by £778.
I'll need extra hands to help me with the bureaucracy of handling 100+ students so that's why.
So go ahead and sign up and save £778. You'll be disappointed later.
TRIPLE P.S
I can't believe you're still here.
Do you like magic tricks? 🪄
This course is covered by a magic guarantee.
If you e-mail me within 7 days and say the magic phrase *drumroll* refund, the money will immediately appear in your bank account.
Cool, right?!
No questions or anything.
Stop playing hard to get and sign up for the course.
There's a huge red button below, in case you haven't noticed yet.
Ciao for now! 🫶
How is this different from other prodcuts?
What exactly am I getting?
Do you offer a 100% money back guarantee?